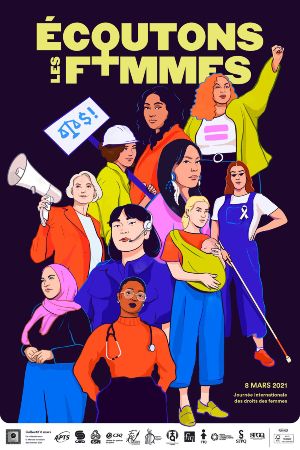 L'R des centres de femmes du Québec chooses International Women's Day to sound the alarm about the number of women across the province in the clutches of psychological distress. Under the banner of Let's listen to women, L'R takes March 8 as an opportunity to call for immediate action in facing this mental health crisis among women.
The COVID-19 pandemic has shaken everyone everywhere since the spring of 2020. Yet not everyone bears the brunt equally. As months have rolled on, inequalities have grown, and women's level of distress has risen. "It's everywhere. The healthcare sector, the education sector, the community sector; one by one, women workers are raising white flags and going on sick leave. They're at the end of their rope," explains L'R co-coordinator Stéphanie Vallée. Rooted in compassion fatigue, this distress is also fuelled by growing anger about their work being undervalued while at the same time so central to fighting the pandemic. "It's absurd how little attention government and employers are paying to our calls for support. We have been fighting for an increase in our mission funding for more than 15 years. What needs to happen for our contributions to be recognized? If women had not stepped up and answered the call, how would the province have coped with the pandemic?" asks Vallée.
Government's action plan on women's health and wellbeing sorely lacking
For the last five years, women's groups working in healthcare have patiently waited for the government to take action to improve the health and wellbeing of women. The measures presented in its action plan are sadly disappointing. Largely obsolete, and more reactive than preventive, the plan tosses the underlying aspects of this social issue to the oubliettes. The gaps between the objectives it sets out and the actions it outlines are considerable, and not a single word on the impact of the pandemic on women's health. Meanwhile, the promise of a mere $5 million a year to address this issue only adds insult to injury to those working in women's health.
Relaunching the economy on feminist terms as the right response
From February 22 to 26, women's centres across the province met with their local MNAs to present them with a joint statement for a feminist economic relaunch. "There's an urgent need to make structural changes if we are to properly respond to the distress of society's most vulnerable women," continues Vallée. In healthcare and social services, systemic racism, sexism, ableism, transphobia and lesbophobia, classism, and obesity stigma make it difficult, sometimes even risky, for women to obtain care. Women's centres believe that massive investments in the social safety net along with major changes in our public services are needed to resolve the social issue that has become women's distress and to, more generally, support the wellbeing of all women.
Le Collectif 8 mars, Molotov communications. Drawing: Valaska.