Services for members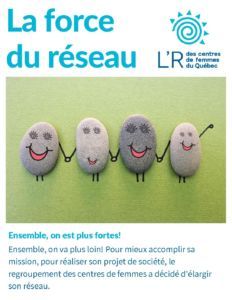 Along with the mission of women's centres, the cohesion of our practices is at the heart of L'R's mission. This is why L'R concentrates a great deal on accompaniment, support, and training.
Subscription to the Nouvel'R, the newsletter for women's centres in Quebec, which includes news about feminist issues, community initiatives, and Quebec politics;

Access to a discussion list to encourage mutual aid and communication between women's centres. The richness of the coalition is that L'R includes all of us, so it's an advantage to be able to consult with other women's centre employees, who can share the tools produced by their centres;

Access to the private section of the L'R website, which is full of tools for women's centres;

Accompaniment and support:

When centres have difficulties with certain participants and are not sure how to intervene, they can call our office for support and guidance.

When centres have difficulties in management, they can call our office for support and guidance.

Permanent staff can travel, without charging fees, to the centre in question (no matter where it is located) to meet the women concerned, in order to guide them as they look for solutions.

The permanent staff members share the information with one another and collaborate to find solutions.

When women's centres want to speak to the media or organize actions on issues that concern the women in their communities, they can call our office for support throughout the process.

Documents on feminist analysis and reflection;

The right to present propositions and vote at general assemblies;

Tools for facilitating workshops;

Ongoing training
Once every 4 years, our permanent staff will come to your region to offer training which has been adapted to your region's needs, at the price of $100 per day, per women's centre participating, regardless of the number or women who attend.
Upon request, permanent staff can travel to offer training adapted to a centre's needs for the cost of $450 per day. Training sessions available include:
Feminist intervention

Feminist intervention – mental health

Intersectional feminist intervention

Feminist management

Fighting prejudice

Organizational ethics

Invisible work and the mental load

And more!
At our annual convention, the second day is devoted to training; workshops, panels, and conferences are offered on subjects which concern L'R members directly.